The euro is the money they use in France and some other countries in Europe.  Click here to see what the euros look like,  up close.  You can click the right arrow to see different pictures.  Look carefully at the pictures so you can answer the questions about the euro.
In this picture, the top bill is the old euro bill and the bottom is one that was just printed in 2014.  This is the front side.
Here are the same two bills on the back side, and a bag of euro coins.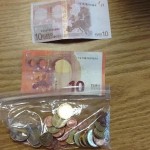 Here are all of the euro bills and coins.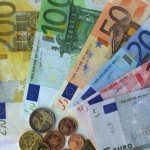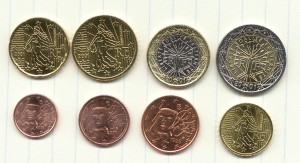 The old French  money was called le franc.